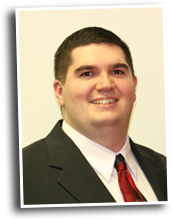 I grew up in a home that had no desire to go to church and had no real knowledge of who God is. I knew who Jesus was, but didn't really know who He is. I believed in God my own way, but not what the Bible said. In February of 1998, The Lord allowed my younger sister to be diagnosed with cancer when she was nine years old. In the Spring of the next year, my sister accepted Christ as her Saviour at Grace Baptist Church during their Spring program. Immediately there was a change in her that made me curious. She lost the battle with cancer on October 12, 1999. I was seventeen years old and a Senior in public high school.

I met many of the people from the church as they came by our home to visit my sister. One of those who came by was my future wife, Jennifer, and when she invited me to a Missions Conference at church, I promised her that I would go. I came throughout the entire conference and liked what I was hearing, so I started attending church occasionally, and the Lord began dealing with my heart. Within a couple of services, I knew that I was lost and on my way to Hell, and needed Him. I knew that if I did not get saved, I would never see my sister again in Heaven. I accepted Him as my Savior on November 14, 1999, nearly one month after my sister passed on. I owe my salvation not only to Christ, but to the little girl who suffered cancer so God could shine through her.

In the spring of 2001 God again touched my heart and I surrendered my life to serve Him with the rest of my life. I enrolled in my church's Bible Institute that fall and surrendered my life to be a preacher. I began studying pastoral theology with the intent of becoming an assistant pastor. Over the years I served in many ministries in order to learn and to gain experience. The Lord has allowed me to be a part of the P.A. booth for the sound system, to be a Reformers Unanimous leader, and to direct our church's tape ministry. I began serving as a bus worker in 2001 and then in 2005 became the bus captain. During the same time, I was a nursing home service director for 3 1/2 years. I stepped down from these ministries when I left for Ireland in 2007.

In the spring of 2005, while I was reading my Bible, God began dealing with me heavily about going to Ireland. The burden was so powerful that it left me speechless and stunned. I told God that if He was truly leading me to Ireland, then He would have to provide a way for me to go that summer. Needless to say, He kept His end of the bargain and set everything up. It was all taken care of a month before my trip.

While I was in Ireland staying with a missionary by the name of Travis Snode, I visited the city of Ennis and my heart began to burn for that place. I met Craig Ledbetter the next day, and he suggested that I come for six months to learn about the culture, to assure my heart that this was God's calling, and to further increase the desire in my heart for Ireland. After returning back home from this initial trip, I started making plans to go to Ireland for six months.

During that time of preparation, in May of 2006, I graduated from Grace Baptist College in Gaylord, Michigan, with a bachelor of science degree in pastoral theology. I also applied to a mission board, Word for the World Baptist Ministries, and was accepted. I left for Ireland on February 14, 2007.

My original plan was to serve with Craig Ledbetter for the entire six months. However, after being there for less than a month, I started feeling God's plans for me change. Before leaving on this trip, I had decided not to let my heart get involved with anyone back home or on the mission field. Yet, just before I flew out, the Lord brought my path across that of a young lady that I had really liked. Over the next few months while I was in Ireland, we knew it was God's will to be married. I had always believed her to be the one for me for the rest of my life, and by the end of March, we were engaged.


During my time in Ireland, I learned so much about the people and the culture. The youth and teenagers are turning towards humanism and atheism. They are searching for answers and have no idea where to look. Alcoholism and drug addictions are rampant and homes are broken and without hope. Jesus Christ is the only one who can give them hope. While with the Ledbetters, the Lord used me to help in their Reformers Unanimous addictions ministry as well as several other areas in the church.
Jennifer Cook and I were married on October 6, 2007. We started part time deputation a year later and full time deputation in the Spring of 2009. I was ordained as a minister of the Gospel of Jesus Christ on September 27, 2009.

After three and a half years on deputation, we left for Ireland on November 14, 2012. We are assisting the Bible Baptist Church of Ballincollig, just outside the city of Cork, Ireland.